This node represents an expansion
operator
— an expansion field in a
.kexp
file. The expansion field's name is displayed on the node.
Input pin 1: density input krystal
Input pin 2: points input krystal
Output pin: expansion krystal
An existing expansion operator can be loaded directly into this node or, alternatively, this type of node can be created, together with two krystal input nodes, by
exploding
an existing expansion krystal node. An expansion krystal node is a
krystal
node whose name is that of an expansion krystal.
This node behaves like all the other krystal construction nodes when its inputs are complete:
if a krystal having identical ancestors and expansion field does not already exist in the standard krystals folder:

the new krystal is created and saved with a new name.
a new expansion krystal node is created for the new krystal, to the left of this expansion node.

the output pin is set to the name of the new krystal.
the new output krystal node context menu item is enabled. It now displays the new output krystal's name.
For this node, the
open expansion editor...
context menu item is also enabled when the inputs are complete. See
Krystals 4.0: Krystals Expansion Editor
.
The
delete this expansion field completely
context menu item is enabled if this expansion field is not used by any other expansion krystal in the standard krystals folder.
Here is an example of using the
new output krystal node
context menu item:
Given the patch:

The following context menu is available: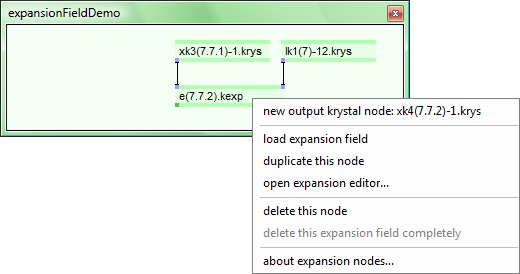 Choosing the
new output krystal node
menu item creates a new node in the patch, to the left of the expansion node, as follows:

This new node is automatically created when the inputs are first expanded, but it can also be deleted. Krystal constructor nodes remember the values in their input pins, so removing and reattaching a wire with the same value will not create a new krystal, and no new node will be created.